New Blount County 911 dispatch system goes live
By Joel Davis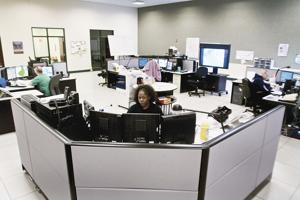 The Blount County Communications Center went live with its new computer-assisted dispatch system Tuesday.
"It's going really well," County 911 Director Jeff Caylor said. "We've had some things to adjust, and we had to start out taking baby steps, but as the hours have gone by and people get used to it, it's getting a lot smoother as we go."
In July, the E-911 Board of Directors approved the purchase of a new computer-aided dispatch system from Spillman Technologies Inc.
The new system allows dispatchers to do their jobs faster. "We think it's a real big improvement," Caylor said. "… They can reduce their keystrokes to 50 percent of what they'd normally do and really get the information in quicker. That's one feature the dispatchers are really liking."
The faster that a dispatcher can finish a job, the faster they can get to the next call. "It just gets it going quicker," Caylor said.
Blount County, Maryville and Alcoa have all gotten on board with purchases of related technology. "The law enforcement agencies have gotten their new mobile (systems) as well as the Maryville and Alcoa Fire departments. That is an improvement for them, and it plays off of our computer-aided dispatch system."
In November the County Commission approved a $579,064 expenditure for the Blount County Sheriff's Office to purchase a new records management system from Spillman. The BCSO had already been looking at replacing its existing records management system, which has been in use since 2002.
Most of the cost of the records management package, $479,064, came out of dedicated information technology reserves that are funded through court fees, plus $100,000 that had been approved by the E-911 Board.
The local agencies are working to implement the new systems. "What will be coming up next will be the records management for the Alcoa Police Department and the Blount County Sheriff's Office," Caylor said.
The BCSO is asking the Blount County Commission to consider approving some supplemental requests for complementary technology to the system in the 2016-2017 budget.
At a recent County Budget Committee work session, Deputy Chief Jimmy Long made the case for the purchase of a $12,000 Spillman data analytics software package. He said it would allow the agency to better collate and analyze data on where crimes were being committed and respond accordingly.
"We never know what we prevent, all we know is what we don't prevent," he said. "This will allow us to pull that information out daily and know where to better deploy officers."
There is also a request to split costs with Alcoa and Maryville to purchase a backup server for the county 911 computer-assisted dispatch system, which would be housed at the Blount County Justice Center. Blount County's share of the cost would be $16,000.
Read the original story here.